Don't let the name of this article fool you. Just because we start with "cheap and fast" doesn't mean we're sending you off to buy Ramen Noodles. Typically when you hear healthy or diet, you automatically assume that you'll be shelling out a lot of money.
These high-fiber and low-calorie dinners require affordable groceries like beans and pasta to help lower your shopping bill while still making delicious meals. We've researched and come up with some great recipes that involve everyday supermarket ingredients.
Not only will you be eating healthy and delicious food, but you won't be going bankrupt trying to support a healthy lifestyle!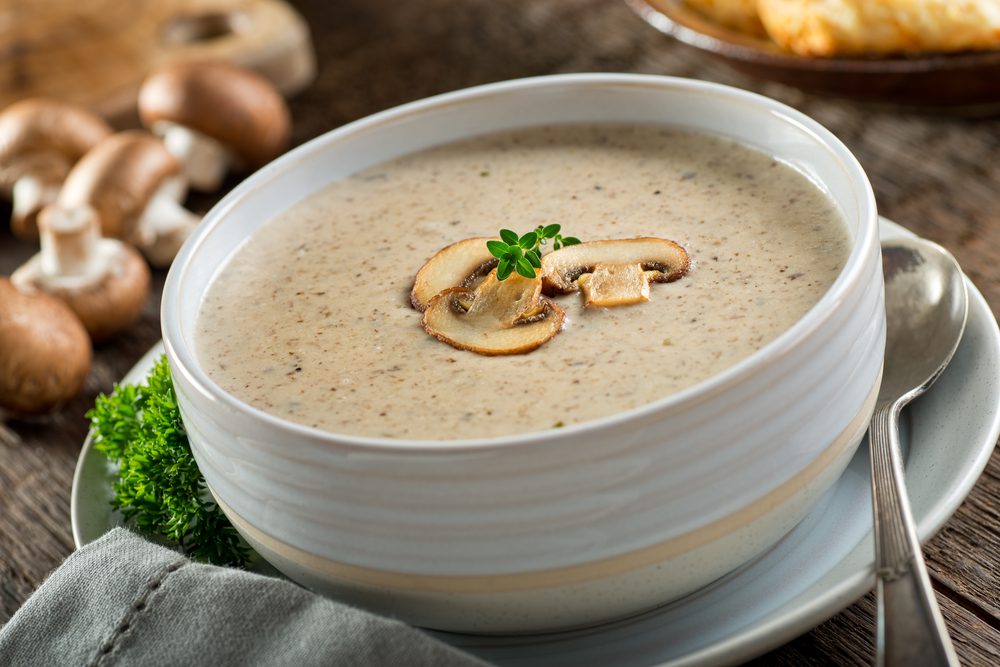 Vegetable Soup
A big bowl of this veggie-packed soup will leave you gratified for hours and doesn't have a lot of calories. Plus, it's a magnificent way to cover your vegetable servings for the day. Top with a dollop of pesto before wolfing down this delicious minestrone soup.
Ingredients:
2 tablespoons extra-virgin olive oil
2 medium carrots, chopped
1 medium onion, chopped
2 stalks of celery, chopped
2 cloves garlic, minced
4 cups chopped kale
12 oz green beans, cut into 1/2-inch pieces
4 Roma tomatoes, seeded and chopped
2 (15 oz) cans of low-sodium cannellini or other white beans, rinsed
8 cups no salt or low sodium chicken or vegetable broth
2 medium zucchini, chopped
2 teaspoons red-wine vinegar
¾ teaspoon salt
½ teaspoon ground pepper
8 teaspoons prepared pesto
Directions:
Chop carrot, onion, green beans, celery, and garlic. Add to heated oil in a big pot over medium-high heat. Stir often while cooking. When the vegetables begin to soften, add the broth and bring it to a boil. Reduce the heat to a simmer and occasionally stir for about another ten minutes until the vegetables are completely soft.
Finally, add the kale, white beans, tomatoes, zucchini, vinegar, salt, and pepper. Cook until the kale and zucchini have softened. That should be another ten minutes. You can top each serving with a teaspoon of pesto to give it some extra flavor.
PSST: If you're looking for an affordable, natural, and delicious olive oil, check this one out! It tastes divine!
Parmesan Cheese and Broccoli OmeletWhen you're rushing in the mornings but want to continue making healthy choices, we have this high-protein breakfast recipe that includes broccoli and parmesan cheese, folded into a fluffy and light omelet.
Ingredients:
2 large egg whites
2 large eggs
1 teaspoon extra-virgin olive oil
1 finely chopped shallot
½ cup chopped broccoli
¼ cup finely grated Parmigiano-Reggiano cheese
1 slice of toasted grain bread
Directions:
Combine the egg whites and eggs and whisk in a small bowl.
Heat your oil in a nonstick skillet. Make sure to lower it to medium heat. Next, add the broccoli and shallot and cook, frequently stirring until tender, for about 5 minutes. Pour your eggs into the pan and scatter the cheese on top. Cover the pan and cook until the eggs are ready. It should be around 3 to 4 minutes. Serve the omelet with toast.
Black Bean Tacos
Sometimes a quick and healthy meal can be found in your pantry, and you may not even know it. Mixing whole beans with mashed canned beans and adding some seasonings can make an effortless taco filling. Add these quick five-ingredient tacos with tomato, lettuce, and salsa or any of your other favorite taco toppings.
Ingredients:
2 (15 oz) cans of black beans
½ teaspoon garlic powder
1 teaspoon ground cumin
8 hard taco shells
¾ cup shredded Mexican cheese
Directions:
Preheat your oven to 325F
Squash half of the beans in a large bowl and add the whole beans afterward. Add the garlic and cumin powder and stir to blend. Fill each taco with around 1/3 cup of the bean mix and sprinkle the cheese on top. Place the filled tacos on a sheet and bake until the cheese melts for 12 to 15 minutes.
Pizza Margherita using a Two-Ingredient-Dough
I know you wouldn't normally consider pizza to be healthy but hear me out. Because of a two-ingredient dough that combines Greek yogurt and self-rising flour, you won't be waiting around for your dough to rise. Just roll, top, and bake, and you'll have a delicious dinner on the table within half an hour. You won't believe how this healthy pizza can be made so fast and easy.
Ingredients:
1 pound Dough (1 ¼ cups whole wheat self-rising flour and 1 cup low-fat plain Greek yogurt
All-purpose flour for rolling
½ cup torn basil leaves
½ teaspoon cornmeal
¾ cup shredded mozzarella cheese
⅓ cup pizza sauce
Directions:
Place your pizza on a stone or a large baking sheet on the bottom rack of the oven. Preheat your oven to 500 degrees F.
Gently flour your surface before rolling the dough into about a 13inch circle. Slightly dust a pizza wheel with cornmeal and place your dough on top. Spread some sauce over the surface but try to leave a 1/2-inch border. Sprinkle with cheese and then scatter some basil leaves over the top. Bake for about 10 minutes until the crust turns brown, and the cheese has melted.
3-Ingredient Roasted Red Pepper Soup with Chickpeas
The cooking directions don't get much easier than this! Boxed or blended soups are the perfect start for simple stir-ins to make them more concrete and satisfying. Here, we've jazzed up roasted red pepper soup with a can of chickpeas and added some fresh baby spinach for a fast, soothing meal.
Ingredients:
1 (32oz) carton of low-sodium roasted red pepper soup
1 (15oz) can of rinsed, saltless chickpeas
3 cups of baby spinach
Directions:
Bring the roasted pepper soup to a simmer in a medium saucepan over medium heat.
Stir in your baby spinach and chickpeas and let simmer until the spinach wilts. It shouldn't take longer than about 1 minute.
If desired, serve topped with freshly cracked black pepper.
Mediterranean Quinoa and Chickpea Bowl
Some great grab-and-go lunches can be whipped up and stored in containers with lids in your fridge. You are making your meals easy, not just healthy, all week long! Chickpeas and quinoa make up this vegetarian bowl with plenty of plant-based protein. A tip would be, if you plan on making a bunch of containers for the week, to keep this recipe fresh, prepare red pepper sauce (Step 1) and quinoa (Step 2); refrigerate in separate containers. Assemble just before serving.
Ingredients:
1 (7oz) rinsed jar of roasted red peppers
¼ teaspoon crushed red pepper (optional)
4 tablespoons extra-virgin olive oil
1 teaspoon paprika
1 small clove of minced garlic
½ teaspoon ground cumin
¼ cup chopped Kalamata olives
2 cups cooked quinoa
1 cup diced cucumber
¼ cup finely chopped red onion
¼ cup slivered almonds
1 (15oz) can of rinsed chickpeas,
2 tablespoons finely chopped fresh parsley
¼ cup crumbled feta cheese
Directions:
Place the peppers, almonds, crushed red pepper (if using), garlic, paprika, cumin, and 2 tablespoons of oil in a smaller food processor and puree until almost smooth.
Combine the olives, quinoa, red onion, and the remaining two tablespoons of oil in a bowl.
To serve, divide the quinoa mixture among four bowls and top with equal amounts of chickpeas, cucumber, and red pepper sauce. Sprinkle with feta and parsley.
Veggie and White Bean SaladThis meatless main dish combines a healthy source of fiber and protein. While we blend with creamy and satisfying white beans and avocado in our salad, you can try mixing it up with different vegetables in season.
Ingredients:
2 cups mixed salad greens
¾ cup veggies of your choice. Ex: chopped cucumbers and cherry tomatoes
⅓ cup rinsed and drained, canned white beans
½ diced avocado
2 teaspoons extra-virgin olive oil
1 tablespoon red-wine vinegar
¼ teaspoon kosher salt
Freshly ground pepper to taste
Directions:
Combine your veggies, greens, avocado, and beans in a medium bowl, splash with vinegar and oil, and season with salt and pepper. Mix to combine and transfer to a plate of choice.
Grilled Cheese with Veggies and a Tomato Soup
Tomato soup with a grilled cheese sandwich is a well-known cheap combo. But we have found a way to make it also healthy, thanks to Maya Feller, M.S., RD, CDN, of Maya Feller Nutrition. She says that "Adding veggies to a classic sandwich—in this case, broccoli, zucchini, and red bell pepper, boosts the nutrient density of the meal."
Ingredients:
3 tablespoons softened unsalted butter, divided in half
1 jalapeño pepper, seeded and minced
1 large red bell pepper, diced
1 cup broccoli florets
1 small zucchini, diced
¼ cup water plus 2 2/3 cups for the second part of the recipe
4 slices Cheddar cheese
8 slices whole-wheat bread
2 (11 oz) cans of condensed tomato soup
Directions:
Put 1 tablespoon of butter in a skillet over medium-high heat until melted. Add the zucchini, bell pepper, and jalapeño and cook for 2 to 3 minutes, stirring until softened. Add broccoli and stir. Add ¼ cup of water and cook for about another 3 minutes until the broccoli is tender. Drain the water and transfer to a medium bowl. Wipe the pan clean.
Spread the remaining butter on one side of each bread slice and then place slices in the pan buttered-side down. Place the vegetables on said bread slices and put a cheese slice on top. Coat with another piece of bread, leaving the butter side up. Cook over medium heat until the cheese is melted and the sandwiches are lightly brown.
Combine your soup and the remaining 1 ⅔ cups of water in a saucepan. Cook over medium heat, often stirring until heated thoroughly. You can cut the sandwiches in half and serve with the soup.
3-Ingredient Chicken Caesar on a Flatbread
The crispy base for this easy flatbread comes from a frozen cauliflower-based pizza crust. To save yourself the hassle of buying lots of ingredients, you can pick up a Caesar salad kit (the components are all included). To simplify your prep more, you can use rotisserie chicken breast.
Ingredients:
1 (about 6oz) frozen cauliflower pizza crust
1 (10oz) Caesar salad kit
6 ounces skinless rotisserie chicken breast, shredded
Directions:
Prepare your crust by following the package directions and bake it until it's golden brown and crispy. Pull it out of the oven and leave it to the side to cool.
Prepare the salad kit according to the package directions, leaving out the Parmesan cheese. Lastly, fold in the chicken.
Load the slightly cooled crust with the prepared salad and sprinkle the Parmesan on top. Cut it into six pieces, and you can serve any extra salad on the side.
Artichoke and Tomato Gnocchi
We've found a way to give this vegetarian gnocchi recipe some kick by adding some olives, Artichoke hearts, and just a splash of red wine vinegar. To give it even more of a Mediterranean taste, add some feta cheese!
Ingredients:
2 tablespoons extra-virgin olive oil
1 (16oz) package of shelf-stable gnocchi
1 small sliced onion
1 small diced red bell pepper
4 large, thinly sliced cloves of garlic
1-2 tablespoons chopped fresh oregano
1 (15oz) can rinsed chickpeas
1 (14oz) can of saltless diced tomatoes
1 (9oz) box of thawed and chopped frozen artichoke hearts
8 sliced and pitted Kalamata olives
¼ teaspoon ground pepper
1 tablespoon red-wine vinegar
Directions:
Heat one tablespoon of oil in a larger skillet over medium-high heat. Add the gnocchi and cook for about five minutes, often stirring, until plumped and starting to brown. Move to a bowl and cover to keep warm.
Reduce the heat to medium and add the remaining one tablespoon of oil and onion to the pan. Cook for 2 to 3 minutes, occasionally stirring, until it starts to turn brown. Add the bell pepper and let it cook for about another 3 minutes, occasionally stirring, until crispy/tender. Add your garlic and oregano and after stirring it in, add the chickpeas, tomatoes, and artichokes. Cook for about another 3 minutes and stir in the olives, vinegar, pepper, and gnocchi. Sprinkle with oregano, if you wish.
Chipotle Chicken Quinoa Burrito Bowl
This chipotle-flavored burrito bowl recipe is even healthier than takeout and just as speedy. Stacking it with vegetables and replacing the rice with quinoa adds nutrition to a healthy meal.
Ingredients:
1 pound boneless, skinless chicken breast
1 tablespoon thinly chopped chipotle peppers in adobo sauce
1 tablespoon extra-virgin olive oil
½ teaspoon ground cumin
½ teaspoon garlic powder
2 cups cooked quinoa
1 cup canned pinto beans, rinsed
1 ripe avocado, diced
¼ cup shredded Cheddar or Monterey Jack cheese
¼ cup pico de gallo or salsa
¼ teaspoon salt
2 cups shredded romaine lettuce
Optional: Lime wedges for serving
Directions:
Preheat the grill or broiler to medium-high and mix chipotles, garlic powder, cumin, and oil, in a bowl.
First, prepare your grill, oil a folded paper towel, hold it with tongs, and smooth it over the rack. Note: Do not use any form of cooking spray on your hot grill.
Season your chicken with salt and grill it for 5 minutes or broil it on the prepared baking sheet for about 9 minutes. Turn, brush the chicken with the waiting chipotle glaze, and continue to cook until ready. Transfer to a cutting board and chop into bite-size pieces.
Build your burrito bowl with 1/2 cup chicken, 1/2 cup quinoa, 1/4 cup beans, 1/2 cup lettuce, 1/4 avocado, 1 tablespoon pico de gallo salsa of your choice, and 1 tablespoon cheese. Serve with a lime wedge and enjoy!
If you're looking for other delicious recipes, check out this amazing article: 11 Amazing Salads You Can Make in 15 Minutes!