Canned foods are a real threat to your health! 
Let's be honest: it's best to avoid canned goods at all costs. Why? Because when it comes to buying canned goods, you have to look for those labels that ensure that the metal tins are free of hormone-disrupting BPA, but also make sure that you buy nutrition labels that aren't touting absurdly high sodium levels.
Plus, look for ingredient lists to see if there are nasty additives and preservatives…it all adds up to the impression that buying healthy canned foods can be more of a burden than a convenience. While there are more and more diet-friendly products than ever, some of the worst diet saboteurs can still be found in the canned goods section. Find out which products you should avoid: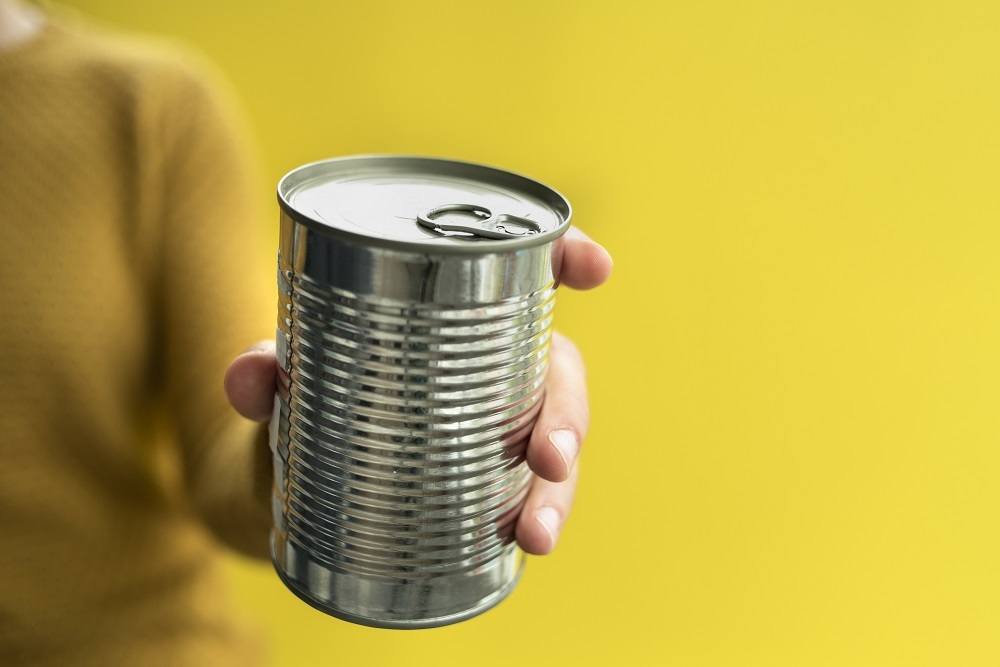 Worst types of canned food:
Campbell's Homestyle Light New England Clam Chowder
If you were fooled by the fact that this canned product has the words "light" and "100 calories per serving" written on it, we get it. But now it's time to open up your eyes and realize that beneath the aura of natural ingredients there is one nasty additive, and that's titanium dioxide.
You don't have to be a chemistry genius to know that it sounds bad, but this whitening agent has been linked to many health implications in humans, like hindering the functioning of digestive cells or reducing the absorption of nutrients like iron and zinc. Given the fact that it's LOADED with bad additives that have no nutritional value, there's no reason why you should ever eat this.
Old El Paso Traditional Refried Beans
Beans are very good for your heart until you add hydrogenated lard to them. It's high in saturated fats and even potentially contaminated with artery-clogging trans fats, so try keeping them away from your grocery list.
Even better, try replacing them with the vegetarian version from Amy's that is heart-friendly, as it has 250 fewer milligrams of sodium. The nutritional value for Amy's Vegetarian Organic Refried Beans for half a cup (130g) is 140 calories, 3 g fat (0 g saturated fat), 190 mg sodium, 22 g carbs (6 g fiber, 1 gram sugar), 7 grams of protein. Not so bad!
Del Monte Sliced Peaches
If you remember eating these as a kid, we bet you didn't know that they're soaking in water, high fructose corn syrup, corn syrup, AND sugar! Just imagine that marinating in this sweet combination, only half a cup of these peaches racks up 21 grams of sugar.
And as the USDA Nutrient Database has mentioned, the same half a cup of natural peach slices would have only 7 grams of sugar. That equals 28% of the recommended daily limit of any added sugars. So, if these numbers scare you and you want to cut back on the sweet stuff and pick up the "Lite" can, it would be better.
Hunt's Manwich Bold Sloppy Joe Sauce
If you've ever had to have your lunch in only 15 minutes, you've probably considered Sloppy Joe. This isn't a bad choice, as long as you don't go for a can of Hunt's Bold Sloppy Joe Sauce. Alongside tomato puree, this can is filled with high fructose corn syrup and corn syrup.
The issue with high fructose corn syrup is that it's rich in a certain type of sugar called fructose. Given the fact that your liver is the only organ that can metabolize fructose if you eat a lot of it, you might have some health issues, like high blood pressure, belly fat, heart disease, non-alcoholic fatty liver disease, and even insulin resistance.
Chef Boyardee JUMBO Spaghetti & Meatballs
You've probably never considered that spaghetti and meatballs can come with 8 grams of sugar. Neither did we. But thanks to Chef Boyardee adding high fructose corn syrup to their sauce, this is possible. But that's not the only problem when it comes to this canned food.
It's true, it has a huge amount of protein, but not from the actual meat in the meatballs, but from the soy protein concentrate. And unlike a protein isolate, protein concentrate has more of the nutrients that are found in soy, which means it's more likely to have traces of the carcinogen-containing pesticides that are used in some soy production.
Armour Hearty Homestyle Corned Beef Hash
While there aren't any nasty additives found in Armour's Hearty Homestyle Corned Beef Hash, the fact that it has 40 percent of your daily value of fat, 50 percent of your daily value of saturated fat, and lots of trans fat in just a cup of serving IS concerning.
Even though trans fat isn't from artificial sources, there are studies that show how natural trans fats might have a negative effect on cholesterol levels. Even more, the fact that a serving goes up to nearly 1,000 milligrams of sodium, makes the whole thing kind of frightening to eat. I mean, that's a lot!
Del Monte Fruit Cocktail No Sugar Added
The thing with "no added sugar" is that they STILL use artificial sweeteners instead of cane sugar. And this applies to this can of fruit cocktail from Del Monte as well. In fact, it has two artificial sweeteners: Acesulfame Potassium and Sucralose, which has been linked to negative health implications caused by an imbalance in your gut microbiome.
Why? Because it recalibrates your sweetness receptors, which can make you overeat traditionally-sweetened foods. If you want to cut back on the sweet stuff, we recommend you try Del Monte's "Lite" canned version. So, next time when you're out grocery shopping, look out for Del Monte Lite Fruit Cocktail.
Bush's Best Brown Sugar Hickory Baked Beans
These canned beans have the sugar equivalent of FOUR OREOS! Even worse, Bush's are known to artificially color their beans with a caramel color, which is a food additive that is known to be a potential carcinogen. It's called 4-methylimidazole.
And even though it's still unconfirmed in some human studies, it's best if you avoid any products that have this additive, as it has 0 nutritive benefits whatsoever. Instead, you could try Amy's pleasantly-sweet baked beans, as they have a fraction of the sodium and sugar and 0 of those nasty additives. I don't know, in my opinion, it's way better!
Wolf Brand Chili With Beans Authentic Texas Recipes
Unfortunately, Wolf Brand's chili doesn't deserve to be in your pantry, as it racks up nearly 1,000 milligrams of sodium for 1 cup of serving, and manages to be one of the few soups that have any artery-clogging trans-fat.
So try to cut back on those calories, 12 grams of fat, and those 4 grams of saturated fat, and pick up a similar, but way better option, which is Campbell's Chunky Chili With Bean Roadhouse! For 1 cup, you'll have 240 calories, 7 g fat (3 grams of saturated fat), 870 mg of sodium, 30 grams of carbs ( 7g fiber, 5g sugar), and 14 grams of protein!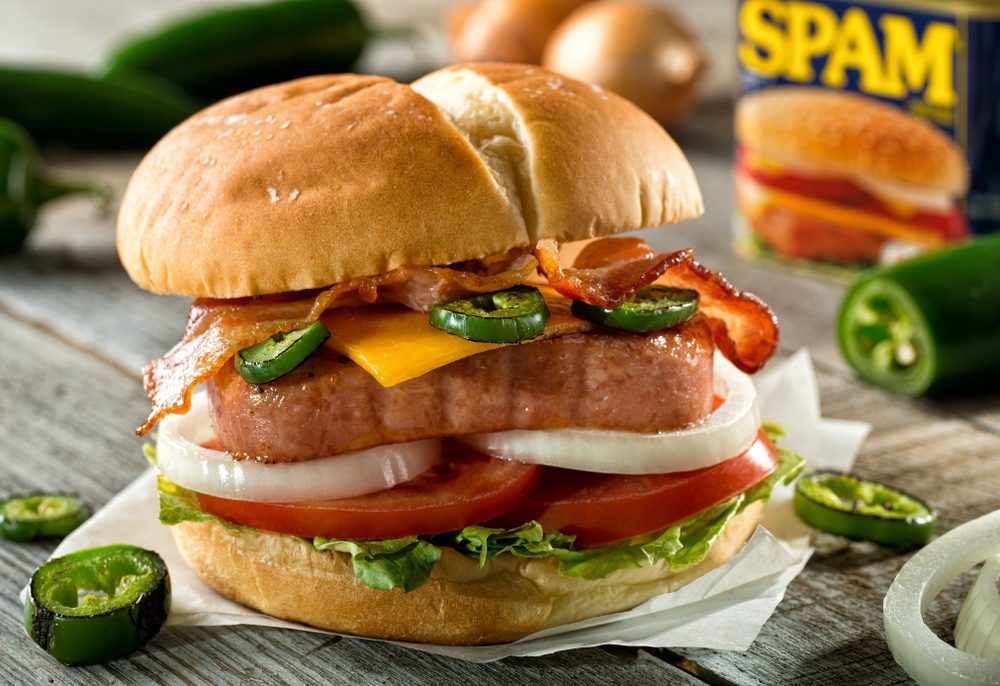 Spam with CHEESE
While Spam might seem a bit gross, it's made with decent ingredients, like pork, salt, water, potato starch, sugar, and sodium nitrite. Unlike Spam with CHEESE, which is dyed with artificial colors and is LOADED with sodium phosphates.
Yes, it's true, low levels of phosphates are actually necessary for your overall health, but when you eat them in excess, there are studies that show how it accelerates aging. Processed meats and fast food are both extremely rich in phosphates. So if you can lay off this canned food, please try to do so. Instead, try going for SPAM Classic, which is way better.
If you enjoyed reading this article, we also recommend reading: 11 Cheap and Fast Dinners to Help With Weight Loss.