Which is your family's go-to restaurant?
Families of all kinds come together all the time at restaurants for comfort food and diner classics. Sometimes at buffets, and often for all-day breakfast. Over the years, many of these family restaurants have popped up across our country and have become standard American restaurants that can be found worldwide.
You'll find breakfast restaurants such as IHOP on our list, as well as Cracker Barrel, Red Lobster, and Denny's. And just because a restaurant is a chain, that doesn't necessarily mean they specialize in just American cuisine. Other popular restaurants include the Australian-themed Outback Steakhouse, P.F. Chang's China Bistro, and Chipotle Mexican Grill.
While many of these restaurants may not have the same types of menus, they do have in common that they are considered the best family restaurant chains across America. Continue reading to see our 23 picks for the best chain restaurants in America that you can't go wrong with.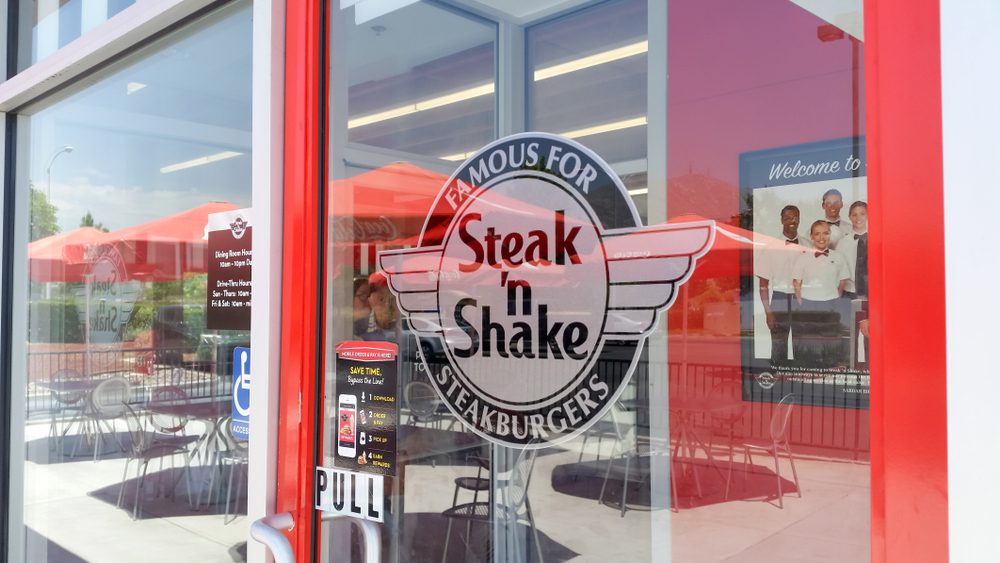 1. Steak n Shake
Average Cost Of Entrée: $4.39
Established in 1934 in Illinois, the name of this retro-style chain says it all: "steak" is for the brand's premium "steakburger," and "shake" is for those delicious hand-dipped milkshakes.
2. Red Lobster
Average Cost Of Entrée: $9.99
Red Lobster offers tasty, freshly prepared seafood, including fresh fish, live Maine lobster, jumbo shrimp, and steamed crab legs. The business was founded by William B. Darden in 1968 and is headquartered in Orlando, FL.
3. Bob Evans
Average Cost Of Entrée: $6.65
The family-friendly Midwest comfort food place is known for farm classics the "Sunshine Skillet," included. Which is an open-faced omelet filled with sausage, home fries, and shredded cheddar. Make sure to add the biscuits and gravy.
4. Johnny Rockets
Average Cost Of Entrée: $9.15
Still bringing that brand of California cool to customers, Johnny Rockets, which was founded in 1986, greets diners with 1950s-themed decor, complete with mini jukeboxes at the tables.
5. Buca di Beppo
Average Cost Of Entrée: $14.73
This classic Italian restaurant serves family-style meals on red-checkered tablecloths and is excellent for large groups. The service allows you to order a couple of things, and everyone can try a little because the portions are enormous.
6. Chipotle
Average Cost Of Entrée: $6.95
The high-quality ingredients are due to the hormone-free dairy products, and most of the meat is also antibiotic-free. Plus, the chain requires each restaurant to source at least 50 percent of one produce item locally. An added bonus for families with food allergies is that the entire restaurant is peanut-free.
7. Outback Steakhouse
Average Cost Of Entrée: $17.79
Outback's Bloomin' Onion is a thing of beauty. It blends the fast-food concept with restaurant achievement. They've made their name by being the best place to take out a group of friends for a night, and it's their charm that keeps us coming back for more.
8. Panera
Average Cost Of Entrée:$7.69
Panera posts the calorie info for every dish on its menu board next to the price. So you'll know that the smoked turkey, ham, and grilled-cheese sandwiches on whole-grain bread all have roughly 300 calories or that the Asian Sesame Chicken salad is at 400 calories.
9. Cracker Barrel
Average Cost Of Entrée: $8.19
Both a dining AND shopping experience, Cracker Barrel specializes in American comfort food but also nostalgia. Its menu is full of fan favorites like country-fried steak and chicken and dumplings.
10. IHOP
Average Cost Of Entrée: $7.86
Their motto is that they "welcome Breakfastarians with open arms." IHOP also runs National Pancake Day, when the chain gives out pancakes to encourage donations for charity.
11. Fuddruckers
Average Cost Of Entrée: $7.90
Boasting the "World's Greatest Hamburgers," this Texas-based chain raises the burger game by grinding the meat and baking its buns on-site.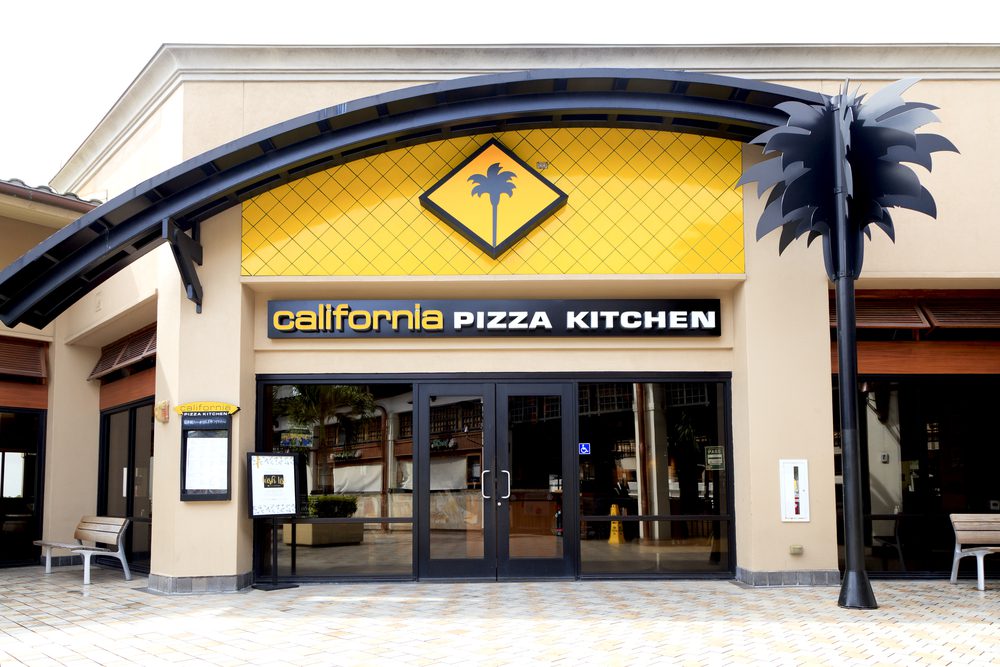 12. California Pizza Kitchen
Average Cost Of Entrée: $14.21
While known for the iconic Original BBQ Chicken Pizza, California Pizza Kitchen has dozens of other varieties of pizza as well. Among them, those with gluten-free and cauliflower pizza crusts.
13. Olive Garden
Average Cost Of Entrée: $8.49
Olive Garden is a fan favorite. It's fast Italian-American grub that the average middle-class family can afford. It also runs the roost when it comes to great promotions and giveaways to its loyal customers. Wouldn't YOU want to live on all-you-can-eat pasta for months?
14. Reb Robin
Average Cost Of Entrée: $13.89
Red Robin feels like the perfect middle-ranking restaurant where everything is well-priced and satisfying. Also, this is what this post should be based around, sit-down spots like the Robin.
15. Denny's
Average Cost Of Entrée: $9.74
Usually found near freeway exits, Denny's is a family-friendly chain of diners open 24/7. The location's all-day breakfasts include the ever-popular Grand Slam breakfast, typically a combo of bacon, eggs, toast, and hash browns…Yum!
16. P.F. Chang's China Bistro
Average Cost Of Entrée: $13.96
This Asian-inspired sit-down restaurant has more than 200 locations nationwide, and even though you may see their entrees in the freezer section, at the restaurant, everything is made from scratch when you order. And hey, if you get a hankering for this brand at home, Amazon has some amazing sauces you can buy. Including this one!
17. Texas Roadhouse
Average Cost Of Entrée: $14.10
The bread-and-butter of the Texas Roadhouse chain are the hand-cut steaks. But many diners may be more familiar with the bucket of peanuts offered at each table, though there's some debate as to whether you're supposed to toss the shells on the floor.
18. Big Boy
Average Cost Of Entrée: $10.12
The chain is well known for its trademark chubby boy with a pompadour hairstyle wearing red-and-white checkered overalls holding a Big Boy sandwich. Their signature hamburger is the original double-decker hamburger.
19. The Cheesecake Factory
Average Cost Of Entrée: $15.56
This chain has one of the most thorough menus of them all, with over 250 items. Just save room for dessert. As the name suggests, they offer more than 50 different varieties of cheesecake.
20. Ruby Tuesday
Average Cost Of Entrée: $13.64
The chain, which serves modern American cuisine, also runs frequent specials like free kids meals on Tuesday nights.
21. Chili's Grill & Bar
Average Cost Of Entrée: $11.97
It's no surprise that this universal Tex-Mex chain started in Texas. Its broad footprint includes locations inside some of the nation's largest airports, including Dallas, Chicago, and Orlando.
22. Maggiano's
Average Cost Of Entrée: $9.95
Maggiano's carries a lovely little Italian charm that reminds many people of the actual family-centric restaurants over in Italy. They have built a reputation for bringing that homemade flavor and quality out, especially with their lasagna and meatballs.
23. Longhorn Steakhouse
Average Cost Of Entrée: $25.49
LongHorn is slightly less casual in atmosphere, you won't be shelling peanuts here, but that doesn't mean they're light on the fun. LongHorn not only has an extraordinary menu of grilled entrees, but they also have one of the best in-house bars of all the chain restaurants in the U.S.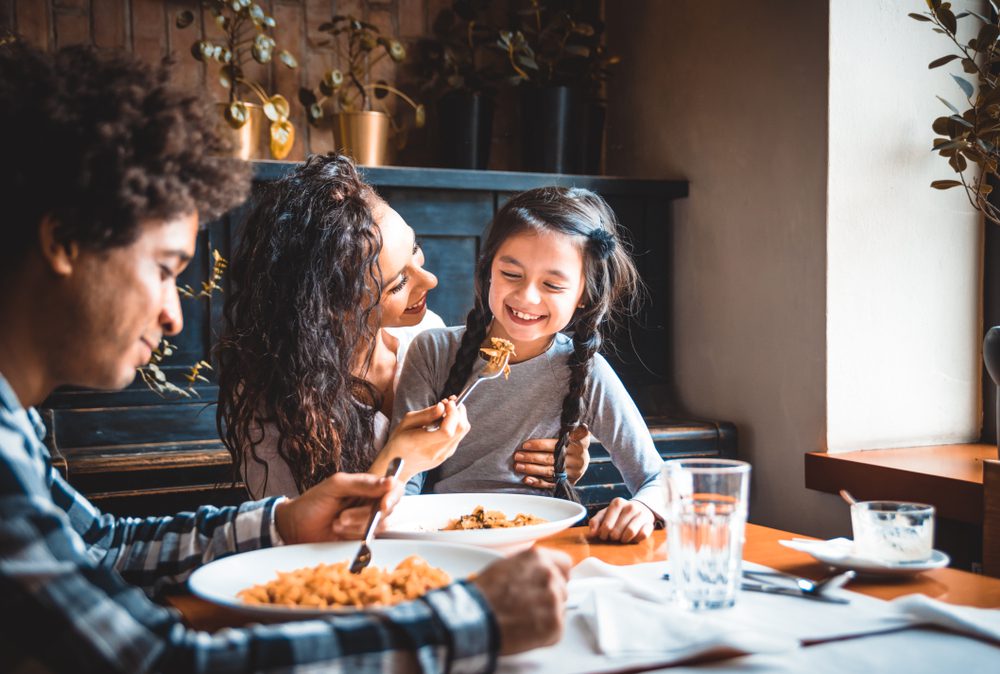 Takeaway
Big franchise chain restaurants are usually the unsung heroes of anniversaries, affordable first-dates, and for any bachelor whose cooking skills begin and end in front of a microwave. But a few of these restaurants stand out from the rest as far as consistency, trademark dishes, and, of course, value.
They dominate the American food experience, being cheap, fast, and filling. You can take your family or walk in solo, and it's ALWAYS all good. You can get a decent burger, a yummy plate of pasta, some "not half bad" tacos, and all the fried chicken you could want.
These chains get straight A's for offering families healthy and tasty food, sometimes with a side of fun. It's a formula that's served these family restaurant chains well over the years and is perhaps the reason for their success!
Comment below and let us know which one is your favorite!
If you enjoyed reading this article, we think you'll also like this one: 11 Super Easy Ways to Reduce Food Waste and Save Money